Get it?? SEW easy?! I crack myself up. (sorry- all this studying makes me loopy!)
Well one test down- and 4 more to go until I'm done! I got a bit frustrated at this last one- so I decided I would go back to what I care about- crafts. I was making coffee cozies for a while last semester- and then stopped. I think I got a little burnt out. Well, fret no more- they have returned!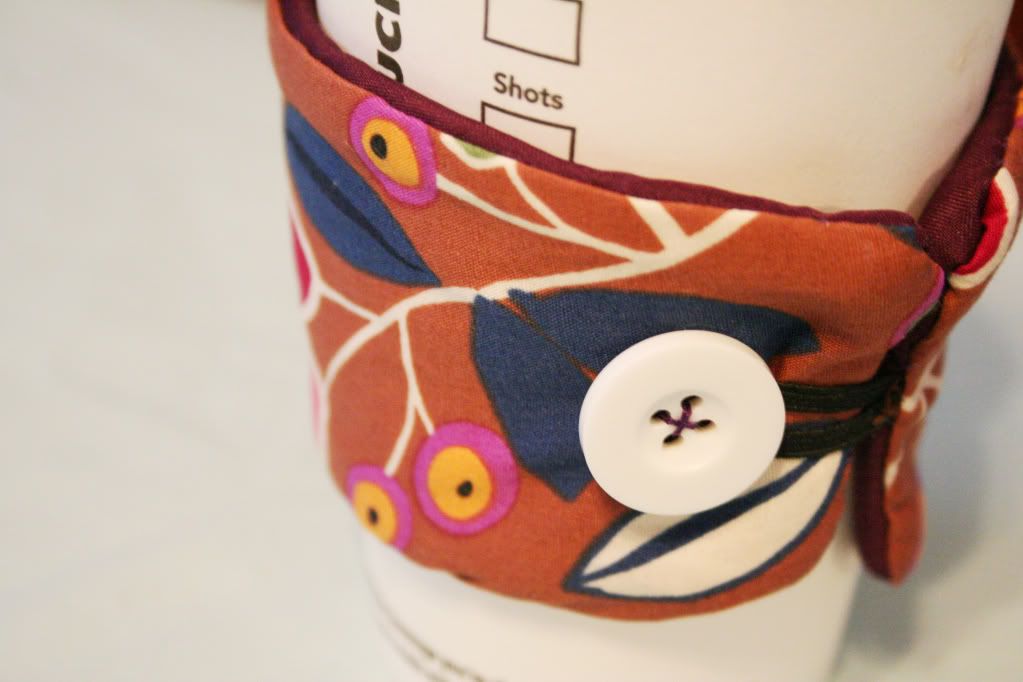 Care to learn? I'm not kidding when I say its easy!
Supplies:
A starbucks (or generic) sleeve for a pattern
fabric- if you want the inside different from the outside- then two different patterned fabric
Batting- I use some sorta of heat resistant batting from Hobby lobby. It is in the monster rolls- and every time I ask the lady which kind to use! Whoops! I suppose felt could work? But you dont want to burn your little fingers!
A button
Elastic
- You could use a hair tye- but I purchased some skinny black elastic that has lasted me FOREVER. I also used it for my
ruffle necklace
way back when
And a needle/thread!
Alright- go ahead and open up your cozy, and cut the 3 layers (inside, middle outside) by cutting around the cozy- leave 1/2 inch ish all the way around so you can sew and flip and it wont be too small. As you can see- I only actually cut the middle piece to size- the others I just chop it off. You only need one to use as a pattern.
If you're using a sewing machine (smart move!) then you shouldn't need to do this step. The elastic needs extra stitches to make sure it doesn't slip out. So take ONE of your fabric pieces (I always use the inside) and your batting. Line them up. Then stitch your elastic (about 2-3 inches of elastic) with the two ends lined up with the ends of your fabric. Make sure the elastic is being stitched to your fabric side, not the batting side. If the fabric you are stitching to has a front and back side. Make sure it is RIGHT side UP!
Just a few different views on sewing on the elastic
Then place your second piece of fabric RIGHT side DOWN (so the two right sides are facing each other)
Sew all the way around- but leave a couple of inches near the bottom to flip.
Trim the extra- and flip!
Then sew up the rest like you would a pillow (just learned this stitch this year- I've taught myself how to sew- and this one my grandma had to teach me!)
Then put your button on!
Ta-dah! you've got yourself a nice little cozy!
And now back to studying for Civil Procedure. Bleck. All-time WORST class. Well, criminal law scares me more (I hate reading those cases about murder and rape) but Civil Procedure is super confusing.
*Dont forget to enter the necklace giveaway
here
*