I'm so excited for this giveaway- its something that is still really new to me, but I'm DYING to get into! Digital scrapbooking!!! I'm always impressed with people that can create prints on the computer (for scrapbooking, and blog layouts for example). Here are a couple examples of digital scrapbooking!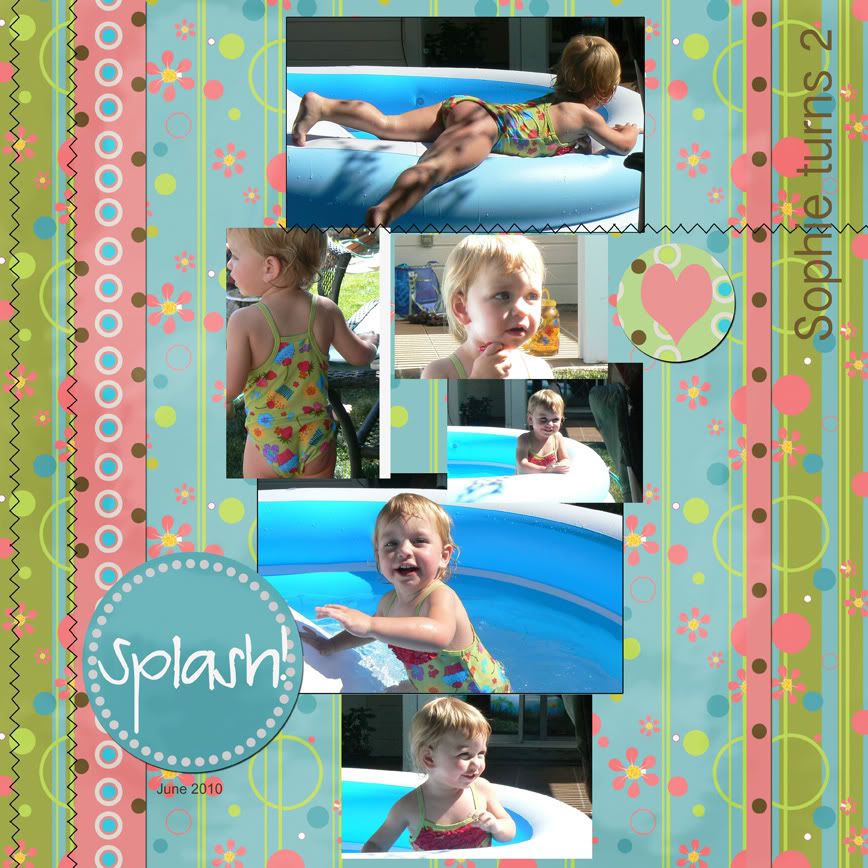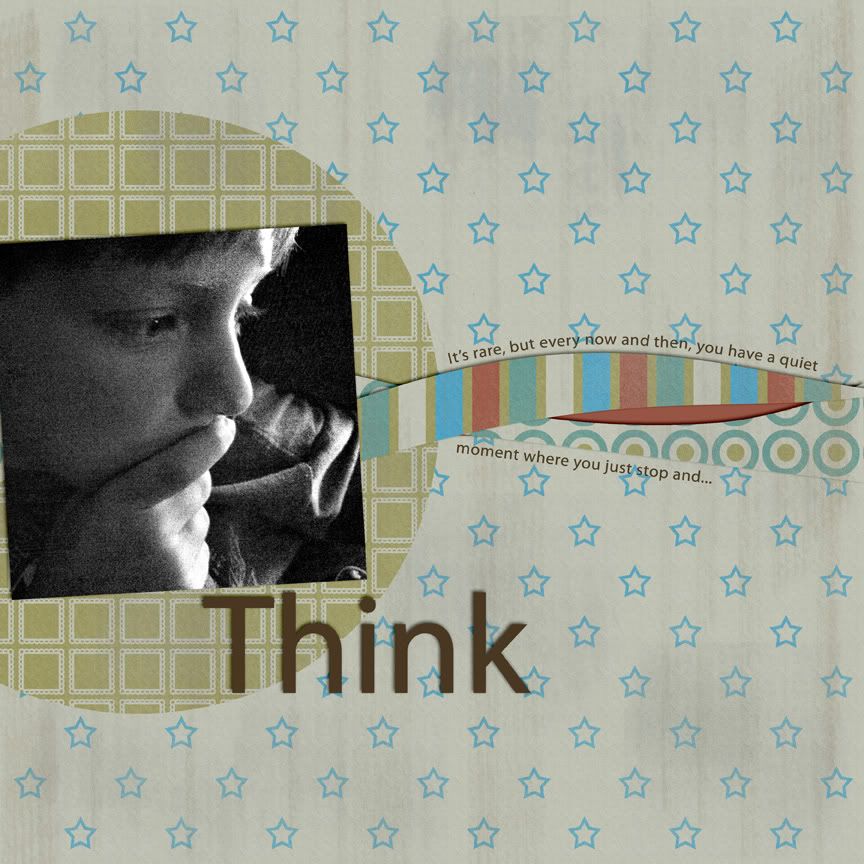 Why scrapbook digitally?
1. Save money- no printing pictures!!!
2. Save trees!
3. Save space (my closet at home is FULL of scrapbooks of my childhood. What a great way to save space!)
4. Making mistakes isnt as scary! You can just click the "undo" button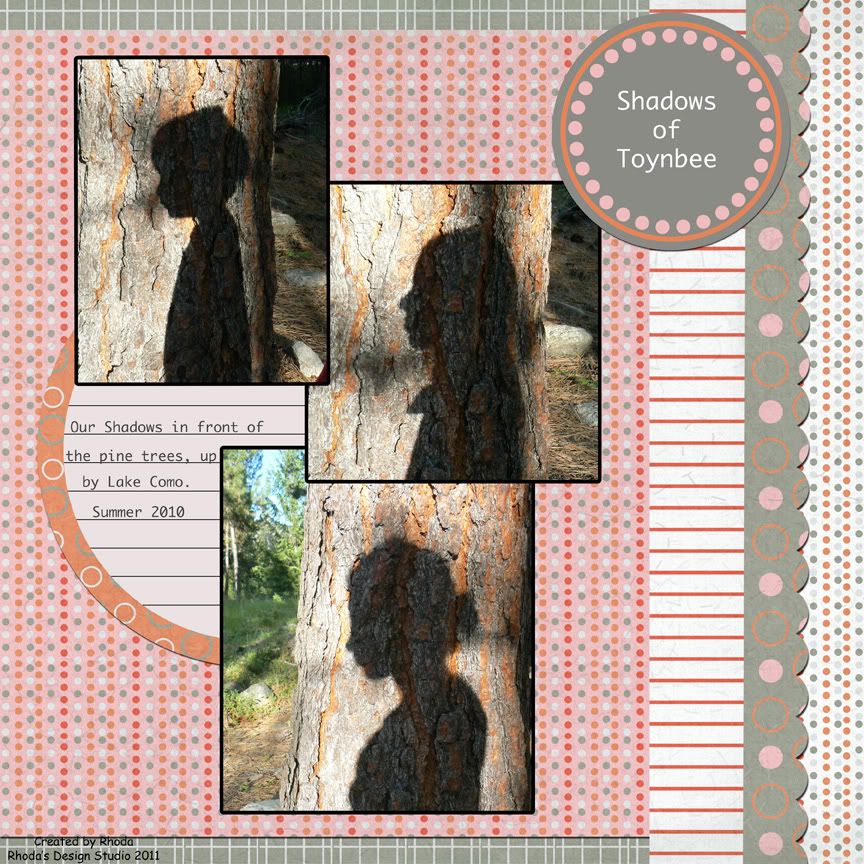 Well allow me to introduce you to Rhoda from
Rhoda's Design Studio
. She not only put together these LOVELY scrapbook pages, but she also CREATES the designs/prints/frames that you use to decorate your photo memories!
I was obsessed with Art in High School. I used to rearrange my schedule each trimester to guarantee that I had an art class. When I left for college, I loved looking through the catalog at all the fun things available. I figured, I could never make a living as an artist, so I took a couple art classes for fun, but focused on becoming a teacher. My first plan was to go to school for High School Science, and as my art classes accrued, a minor in Art.
When I was finishing up my generals, my husband and I were married, and then we had our first baby (a little sooner than we planned). I switched my major to Elementary Ed. and kissed my art classes good-bye.
After graduating from college, we moved to Bozeman, MT. I stayed home with our daughter and was pregnant with our son. I knew that I didn't want to put them in daycare, so I started researching a way to make a little money and still be home with the kids. I found eBay and Scrapbooking. I was hooked!
We moved to Darby, MT in the summer of 2003. For the next 4 years, I made enough to cover what I would have been making had I been teaching and paying childcare for two kids. I sold on eBay and also started my own scrapbooking kit.
When Hayden was almost 4, a position at the school came available and I knew that I would be foolish not to get my foot in the door. I stopped making things for sale and went to work teaching.

I'm a creative person. If I'm not playing in paint, or mixing up papers, or working with colors, I get crabby. I've always scrapbooked for my self, but I like to share too.
I started dabbling on Etsy. I really wanted to be able to draw things I liked, make things I liked, and still be able to make a little cash on the side.
After 3 years of teaching, the High School Art teacher retired. I wasn't certified for the position, but I only needed 3 classes to be certified. I requested a provisional, so I could teach the classes while I finished getting my minor. Life made a loop for me, and brought me back around to being creative.
My other dream was to be an illustrator (or color for Disney, but I won't push my luck).
When I started looking into a Master's program in Illustration, there wasn't anything available in Montana (or Idaho, or anywhere close for that matter). Online courses are available, but the whole Master's Degree is as much as my Bachelor in Education. Not feasible.
I cried for a few days.
And then I bought myself a load of books on
Amazon.com
. I'm a teacher. I'll teach myself. I also found some online classes for digital programs like Photoshop and Illustrator.
After challenging myself for awhile. Practicing. And still learning, I am now offering my creations in my shop: rhodadesignstudio. I am still learning. I am still challenging myself. And I am still talking myself through my moments of self doubt. Those nasty little thoughts that pop up and tell me that because I haven't gone to school, I'm not good enough. I squish them, and I keep on practicing and learning.
There you have it.
Someday, I hope to be able to match my teaching income with my art, graphics, and illustrations. I've set some goals for myself. I still have a stack of books to work through. I'll get there. I'm to stubborn not too :)
I absolutely love how open and honest Rhoda was about her history- and she has inspired me not only to start doing digital scrapbooking- but to also really dive into photoshop. I've been messing around on it for a while, but haven't really sat down and made myself figure out how to do things. Sounds like a photoshop class online may be a good way to go!
Well FIRST off, some AWESOME news- All of you can download her scrapbooking/blog design kit FOR FREE!!! She made this kit expecially for my readers :) She even used colors from my blog to make it extra special! So go at it!!! If you're a digital scrapbooker, or just looking for new fun backgrounds to your blog-
download it here
!!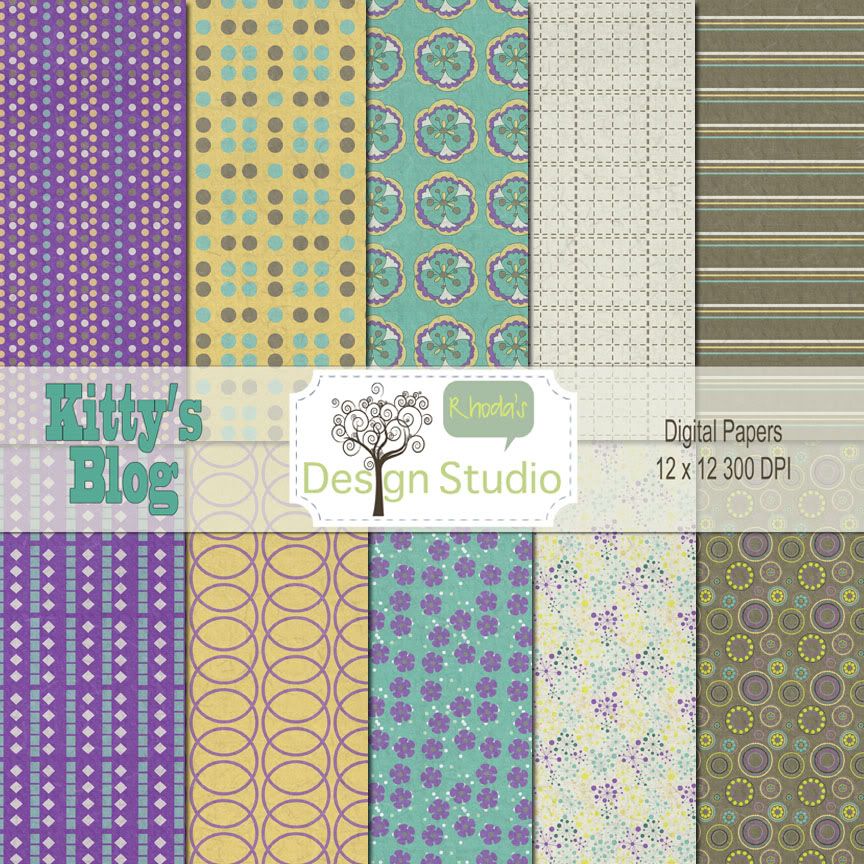 Your SECOND chance for freebies!! Go check out her
blog
RIGHT NOW! (okay, no rush...but you'll want to right now because it is AWESOME!) She has ANOTHER free download for all of you that visit her blog! You may be thinking- this is too good to be true...whats the catch? NO CATCH :) (I sound like a car salesperson now...I'm going to stop! haha) So go to
Rhoda Design Studio
to find another freebie!
And finally- one of you will win a

$15 Credit to her Store!
Well here is how you can win the $15 credit to her shop (which would get you alot of stuff since her designs are INCREDIBLY reasonable!!)
Do any of the following! Comment in seperate posts for each that you've done!
(be a follower here first to enter)
1. Go check out her
etsy
, heart her shop, and come back telling me your favorite item!
4. Blog, Tweet, Facebook about this giveaway- who wouldn't want to share all of these freebies with their friends!
The giveaway will be open for a week! 8/4