Its been over a year since I've worked at Starbucks, but I still love sharing what I learned. Here is the
Caramel Apple Spice
I shared with you a while back, in case you missed it. I also now have a place to answer your questions
here
. Well now I thought I'd share the trick of the drinks. Simple really!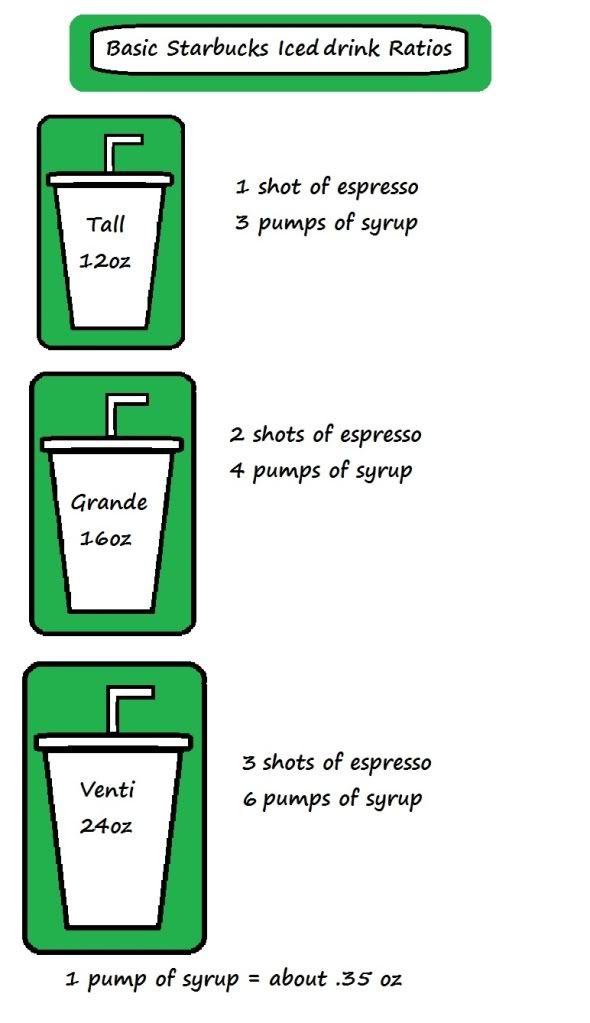 I am not 100% sure on how much a "pump" equals. I googled it, and that was the amount that seemed most normal. For calories, its about 20 calories per pump. Unless its mocha, then its 30.

Using these basic ratio's you can make just about anything. One difference, is a caramel macchiato- it has one LESS pump of syrup. Later I can post the differences between a latte, cappuccino, americano, etc.
A few things most customers don't know about their drink:
1. In a hot drink, you get no more caffeine in a Venti then you do a Grande (unless you ask for extra shots...or have an americano)
2. Venti cold drinks are 4 oz larger than a venti hot drink
3. Venti cold drinks get an extra pump of syrup= more calories
4. I'll call these "hybrid drinks" for the sake of this, but it is drinks like "raspberry mocha" or something with a double syrup in the title...they have the SAME AMOUNT of pumps per flavor. That means for a grande raspberry mocha you are getting 4 pumps raspberry AND 4 pumps mocha. Whoa.
5. Alot of Starbucks do sell the large bottles of syrup, and for dirt cheap! About $7 a bottle!
Two other notes while I'm on the topic:
6. Its NOT a Frap or Frappe...its a Frappuccino. Your barista's dont use slang, so you're not cool when you do it either.
7. And yes, as I've said before... If you are mean to your barista, your drink probably just became decaf without your knowledge. Its the most passive way to get back at a rude customer, and is the only way to keep us smiling :)
Anyway, hope you enjoyed that!