This apron project got me pretty excited. It was one of those I could visualize right when I picked up the dress.
Here is the dress. (the picture is awful yes....I was cleaning at the time) It cost me $1 on the "last chance" rack at the salvation army. I saw it and thought "Hmm that looks like a fabric for a cute apron" So here we are! This was beyond easy!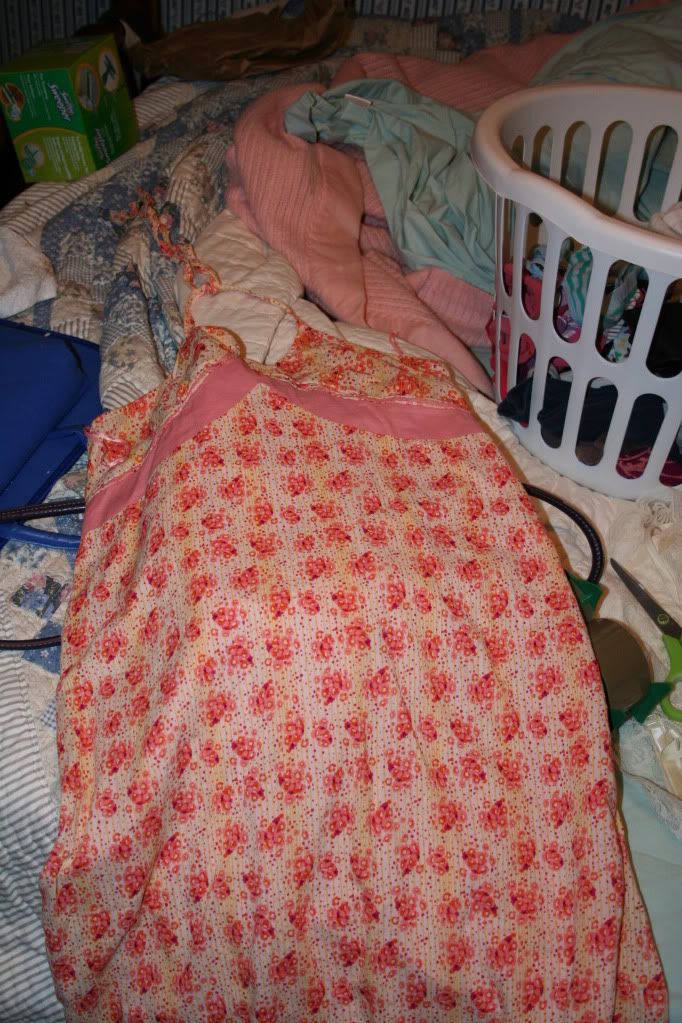 I did this at night, so please excuse the awful photos.
First I found the zipper. This was on the side, but if its on the back simply make that your "opening" for the apron. I cut the zipper out, and laid it flat.
Then I cut off the top portion. Making sure to leave plenty of room to fold down the top for a hem.
Here is where I got excited. I looked at it and thought....its not a good apron without a pocket! So I cut the "chest" part of the dress in half. What makes a better pocket than a portion of the dress already designed for holding things with support?
I also lucked out since this was a halter- the straps made perfect ties! So after cutting off the straps, I sewed them on to the back of the apron. I forgot to take a photo but since the dress had a pink lining. I simply folded down the dress twice, and sewed with the pink lining showing for the waist.
And there you have it! Once again, this is all hand sewn...so you know that it is easy! I had to also take a photo with my $0.50 pyrex bowl find. Between the fenton milk glass, pryex and corning ware I've found at salvation army....I am all set for a great vintage house someday.