I love coffee, especially coffee that goes with chocolately tasting goodies. Did you know
different foods help bring out the taste of the coffee bean you are using? If you're ever curious, just ask your Starbucks barista what should be paired with the coffee you're drinking that day.
Starbucks Tip- Did you know starbucks pastries are created to pair with certain coffees? Its amazing how coffee can change after taking a bite of a pumpkin bread, or Cinnamon chip scone.
Back to the important stuff- the biscotti!!!
For this marble biscotti- I found a helpful ingredient list
here
, but changed it ever so slightly...along with the method a bit.
Ingredients
3/4-cup butter or margarine
1 1/2-cups sugar
3-teaspoons baking powder
1/4-teaspoon salt
4 eggs
3/4-teaspoon vanilla
3/4-teaspoon almond
4-cups all-purpose flour
1 1/2-cup semisweet chocolate pieces, melted and cooled
1 cup finely chopped hazelnuts
Beat butter or margarine in a large mixing bowl with an electric mixer. Add sugar, baking powder and salt. Beat in egg and vanilla and almond till combined. Beat in as much flour as you can with the mixer. Stir in any remaining flour with a wooden spoon.
Divide dough in half and remove one half to another bowl.
Into one half of the dough, stir the melted chocolate And 1/2 cup of the nuts.
Divide each half of dough into 4 equal portions.

With light floured hands shape each portion into a rope about as long as your cookie sheet.
Place a rope of each color side by side on an ungreased cookie sheet.
Twist ropes around other several times. Flattened slightly to 2 inch width.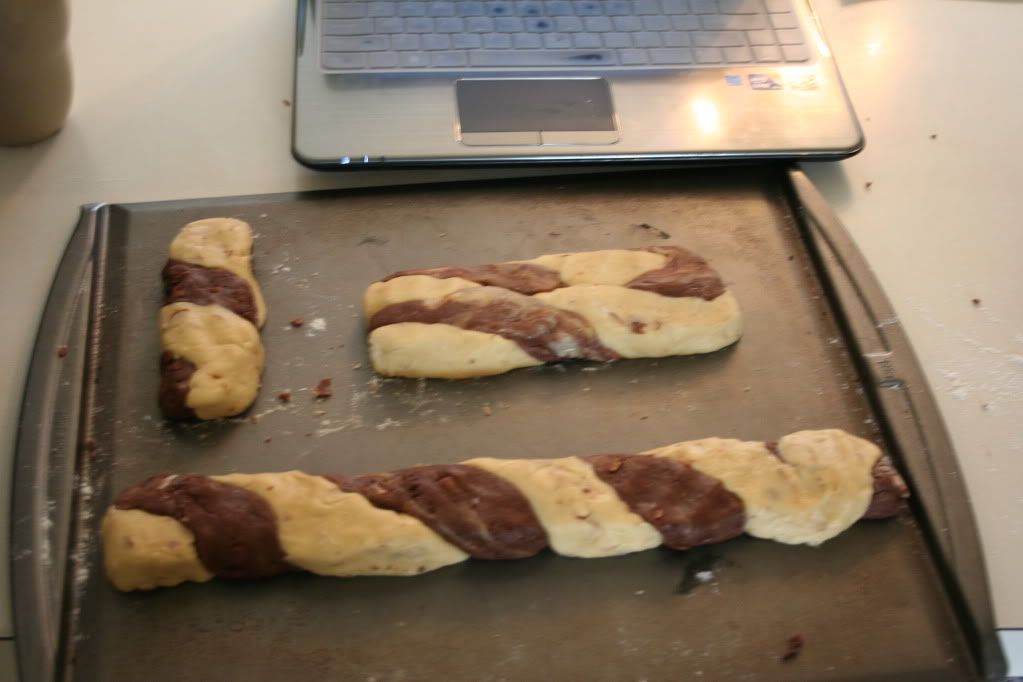 Repeat with the other Ropes, placing twists about 4 inches apart on The cookie sheet.I had a little fun with this step- doubling up the ropes and just playing around with it for different marbled looks.