Ever wanted to know what people REALLY think about your blog? The fabulous and the not so fabulous?
Well come join this little linky party!
First- allow me to give credit for this idea! Heather from
inspiremeheather.com
had truly the neatest idea for a link party! I loved it so much, I wanted to share it with all of you!
The goal: To find out how readers think of your blog- everything from content, to pictures, layouts and fonts
How its done:
I have a linky set up here- and I'll leave it open for a week- all you do is link up, by posting your blog title, url, and your email stating you want to participate!
I will compile all of the entries, then assign each person TWO blogs to check out, and give your honest opinions of the blog! You can list things you love, things you think they could work on, what you think of the layout, the photos, content...anything you notice!
This will all be ANONYMOUS because your blog comments will be emailed back to ME, who will then go through, and email the authors of the blogs the 2 comments received.

And I will email out the two comment assigned to you!
So here we go! I really loved getting feedback on my blog, which is why I think everyone should enjoy this opportunity!
Also- I encourage you to comment here (anonymously if you'd like- so you can feel you can be truthful without me knowing who you are!) with your own suggestions on my blog as well! I wont be entering myself (since that isn't fair to those who would be assigned to me, and asked to report back to me) and I'd love to hear what you all have to say! Especially frequent readers! Feel free to comment on content, and what you would like to see more, as well as layout and basic blog comments!
This is open to any and all followers- so please be a follower before entering! You're welcome to share this with other bloggers- and the button is optional for posting!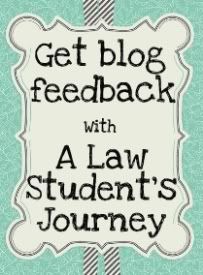 I'll have it open for a week- but may have to cut it short if too many people enter and I can't handle the numbers! 1/22